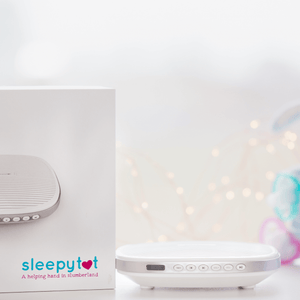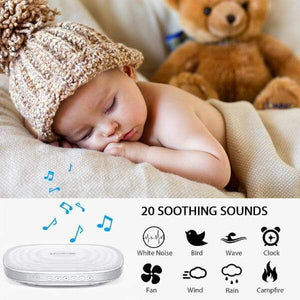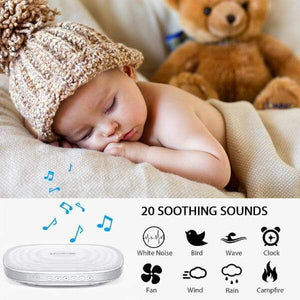 Sleepytots
White noise machine
Sleepytot White & Pink Noise Therapy works all night (continuous OR on a 30 min, 60 min, 90 min timer) to help your baby sleep longer and with fewer disruptions. 
With 20 soothing sounds to choose from, this clever little machine can help resettle your baby back to sleep through their sleep cycles without fully waking - suitable from newborns to the elderly. Can be used with headphones (not included).
Built-in rechargeable battery provides more than 10 hours playing time after 2 hours recharged and comes with a USB plug for long-term use. 
Highly recommended by baby sleep consultants around the world
Sounds in order: White Noise, Pink Noise, Gray Noise, Brown Noise, Fan, Cracking fire, Clock ticking, Train, Crickets, Frogs, Birds, Rain, Thunderstorm, Stream, Ocean, Shush, Womb Sound, Lullaby 1, Lullaby 2.

The sound machine will default to the last sound used each time it is turned on.
You can also start from Lullaby 1 or Lullaby 2 to ascertain which sound you are at.

There's something there for everyone to help you drift off to sleep.

Lightweight, slimline and very portable (you can bring it anytime and anywhere), and it will easily fit into your backpack, luggage or suitcase.