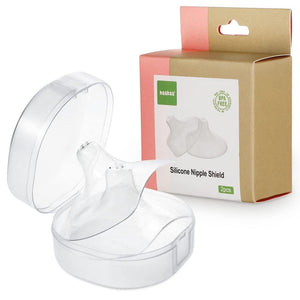 TINI Store Darwin
Silicone nipple shield 2pk
Haakaa Silicone Nipple Shield 2 Pack

Description:

Haakaa's Silicone Nipple Shields offer the perfect solution a mum with sore and raw nipples because of breastfeeding.

Breastfeeding can require a bit of practice for most mums. The Haakaa Silicone Nipple Shields are an effective tool for helping mums who are having latch-on issues related to a premature or ill infant, flat or inverted nipples, tongue/lip tie, an overactive let-down or simply just getting used to the whole breastfeeding action.

Being ultra-thin, the super-soft silicone moulds to your breast and is warmed by your body heat, providing a natural and comforting feel for both mum and baby.

The Silicone Nipple Shields have an opening that's 18 mm in diameter for your nipple.

Features:

For latching difficulties or flat and inverted nipples to help mums continue breastfeeding.
Unique shape and super thin silicone allow for more skin contact between mum and baby. Also warms with mum's body temperature for a natural feel.
Ultra-thin, super-soft, flexible 100% food-grade silicone.
BPA, PVC and phthalate-free.
Includes two shields and a protective case.
Microwave steriliser and dishwasher safe.

Cleaning:

Wash before initial use. It is strongly recommended sterilising this product by boiling in water for 2-3 minutes.

Storage:

Store in a cool, dry place, avoiding direct sunlight.

Warnings:

Always read the label & use only as directed.

Check product condition regularly. Replace if this product shows any signs of damage. Do not store near any sharp objects. Only soft bristle brushes or soft sponges should be used to clean this product as hard scrubbing may scratch the surface. Children can choke on small objects if left unattended. This product is not a toy. Do not use this product for anything other than its intended purpose. Store product in a cool dry place and avoid direct sunlight. Excessive stretching may cause tearing.

While all efforts have been made to ensure that ingredient listings are accurate, up to date and complete for products on the Superpharmacy website, suppliers may change formulations on short notice. Please check ingredient listings on the actual product before use.