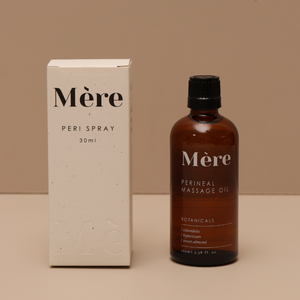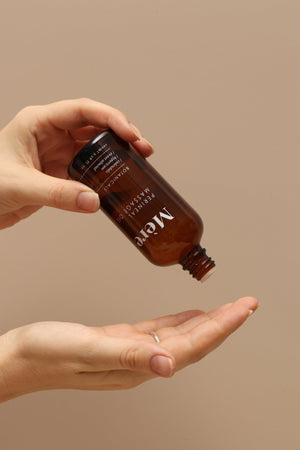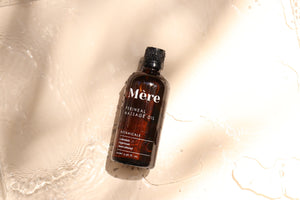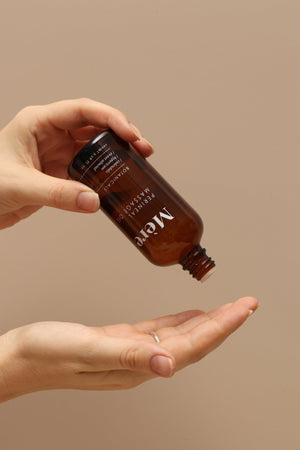 Mere Botanicals
Mère perineal massage oil 100ml
Nourish and prepare the delicate perineal skin in preparation for birth with regular massage with our peri massage oil of Sweet almond oil combined with Calendula and Hypericum infused oils to keep skin soft, flexible and relaxed, ready for childbirth.
Ingredients:
Amygdalus Dulcis (Sweet Almond) oil, Organic Calendula officinalis (Calendula) oil, Hypericum perforatum (St. John's Wort) oil, Natural Rosemary antioxdidant.
Directions: 
Use peri massage oil from 34 weeks, 3-4 times per week, for 5-10 minutes. Ideally use in the shower or after a bath. Pour a small amount of oil into your hand and cover your thumb and index finger and massage the perinuem, vaginal opening and wall gently. This should not be painful. Do not ingest. Always perform a patch test before use. If reaction occurs, seek medical attention.

Perineal Massage oil can also be used as a baby oil and also for cradle cap. 

Free from silicones, parabens, PEGs, sulfates (SLS/SLES), GMOs, mineral oils, petrolatum, synthetic colours and fragrances, or animal testing. This product contains nut oils.