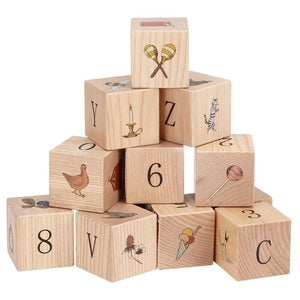 Konges Slojd
KONGES SLØJD Wooden Toy Blocks
Combine leaning and playtime with these gorgeous wooden toy blocks from Konges Sløjd. Made of 100% FSC certified wood, they're decorated with a combination of animals, flowers, sweets, numbers and letters.
CE-tested after European standard EN-71-1
Measurements:
Blocks: 5 cm x 5 cm
Cleaning instructions:
Not washable, but can be wiped off with a wet cloth (max 30 degrees C).
Do not use chemicals
WARNINGS:
The wooden blocks are approved for children at the age of +3 years old.
Please keep the packaging for future reference.