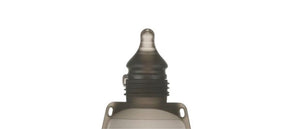 Haaka
Haakaa Squeeze & Feed attachment set
Convert Your Haakaa Silicone Storage Bag into a squeezable on-the-go feeding pouch! Nipple has a cross-cut opening which allows your baby to feed at their own pace.
The Silicone Nipple easily slots into the neck of your Haakaa Silicone Storage Bag. You and your little one can easily squeeze the soft pouch, allowing its contents to flow into the nipple. When not in use, the dustproof cap fits securely over the top of the nipple to keep it clean.
Suitable for thinner liquids such as milk and water.
Recommended Age: 6m+