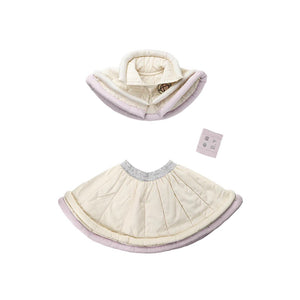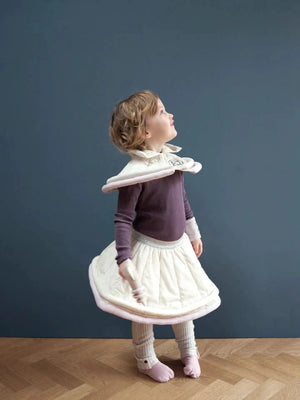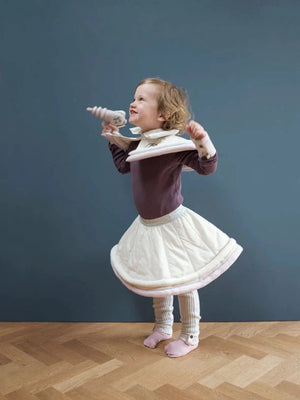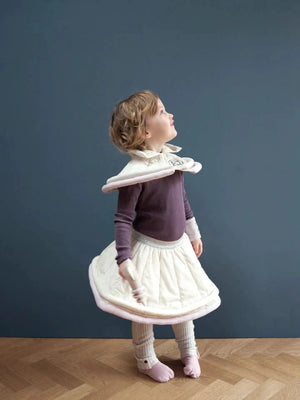 Fabelab
Dress up Cosmic guardian set
Pamper her with this cute Cosmic Guardian dress-up set in 100% organic cotton, and let her imagination take her on an unforgettable adventure into the Galactic Universe.
She might meet unexplored planets, magical stardust, and friendly creatures. It will be so much fun! Inspired by the cult sci-fi movies from the 60s, this costume is slightly different from other space costumes, but you can be 100% sure that it will impress everyone you meet on your way.
The dress-up set consists of a cape with a planetary mark on the chest and a quilted, eclipse-shaped shirt with an elastic silver band, making it very size-flexible. Use it for everyday roleplays or a playful Halloween costume. Are you ready for departure? This season we're going on a mission. We will move upwards, away from the beautiful Land of Fabelab to explore the Dazzling Space.
The Fabelab founder, Michaela, and her creativity are at the heart of everything Fabelab does. Inspired by the whimsical, imaginative world of kids as well as trends and the aim to create heirlooms, she is always busy dreaming up new ideas, full of charm and character, lovingly designed in our creative studio in the heart of Copenhagen.
Size One Size: 3-6y
Material: 100% Organic Cotton I Filling: 100% Recycled Polyester