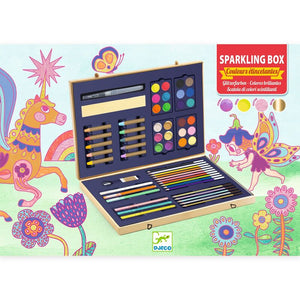 TINI Store Darwin
Djeco Sparkling Box
This sparkling case contains quality equipment and offers budding artists the opportunity to learn about different techniques. One side is dedicated to watercolours and painting, the other to drawing.
Sequins, neon, pearly or metallic colours allow children to enhance their creations. The outside of the box is decorated with an illustration to colour to and personalize it. 
Contents: 1 customizable case (60 pieces): 10 watercolour wax pencils, 1 brush with water tank, 1 sponge, 1 pencil sharpener, 1 eraser, 5 metallic pencils, 10 coloured pencils, 3 paint markers, 3 markers glitter, 6 fluorescent gouache tablets, 6 pearly gouache tablets, and 12 classic gouache tablets.
Suitable for ages: 6+ years