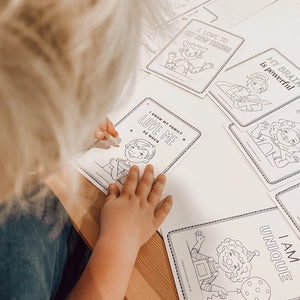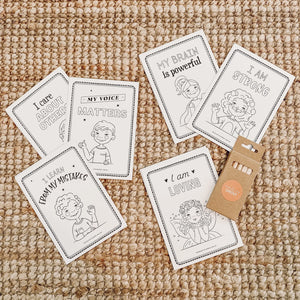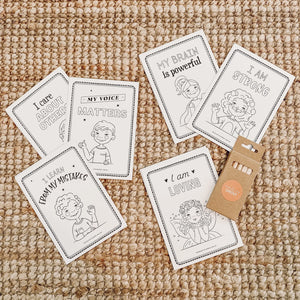 TINI Store Darwin
Affirmation Colouring Pages
Colouring is great mindfulness activity for kids. Your little one can practice their pencil grip, improve their fine motor coordination, encourage self-expression and also give space for some quiet thinking time.

Through this activity we encourage children to practice mindfulness and being present as they pick each colour, enhancing the black and white cards with their creativity. Once complete, your little ones can display these cards around their bedroom or calm corner, not only does this show your support of their work, but they can continue to revisit and use them as a tool in moments they need to take a break.

Our set of 26 affirmation colouring-in pages come with natural timber colouring pencils and a calico drawstring bag for safekeeping. They are printed locally in Sydney, on an A6 size 350gsm card stock.

We hope your little one loves these cards and they bring greater mindfulness to them and those around them.